Anna van der Vliet is the founder and artistic director of ICIA.

Anna van der Vliet is the curator of the exhibition series The Aesthetics of Law during 2016-2017 and the initiator to establish the methodology of New Patrons in Sweden where she is also the mediator in the first project ICIA is realizing during 2017-2019. She is ultimately responsible for the strategic investigations and commissions ICIA executes.

Together with the editors-in-chief of Paletten, Sinziana Ravini and Fredrik Svensk, Anna van der Vliet is the curator of the project University of Disaster, initiated by the co-curator Christoffer Yggdre from L´Agence in Paris. The first part of the project will be a part of the Bosnian pavilion at the Venice Biennale in 2017. A larger conference will be executed within the project during the final week of the biennale. The project is carried out in collaboration with the Museum of Contemporary Art of Repblic of Srpska in Banja Luka.

Anna van der Vliet is a regular lecturer and examiner at art schools, curating programs and is continuously holding lectures in other contexts, such as museums and art galleries. She is also a writer and a member of the editorial advisory board of the art journal Paletten and a regular art critic in Expressen. She is also chairperson and editor at large of the art magazine Paletten and a member of the current editorial staff.

She has previously worked as a curator and acting director of MAP (Mobile Art Production), project manager at Göteborg International Biennial for Contemporary Art and chief editor of Paletten art journal. She has a BA in Media Arts with Photography from London, and has studied art history and history of ideas at the University of Gothenburg and curatorial studies at Stockholm University.

Anna van der Vliet represents ICIA in the Iaspis delegation in Gothenburg.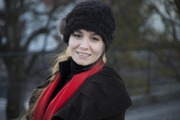 Samira Motazedi was the project manager of Art as a Space for Action produced by ICIA in 2015 /2016.

Art as a Space for Action investigated how art can create room for maneuver in times of migration. The project proceeded during the the autumn of 2016 to become a commission of a new art project using the methodology of New Patrons. Samira Motazedi is responsible for the commissioning group of the New Patrons project ICIA is realizing during 2017-2019.

Samira Motazedi is born and raised in Iran, where she has studied business management and worked politically for women and workers rights. She was sentenced to death in Iran and came to Sweden in 2012 seeking asylum while living at a refugee center. Her application was rejected in May 2013 and she was forced to live undocumented until the Migrationsverket (The institution for Migration) reopened Samira Motazedis case after injunctive from the Migration court in the summer 2015. In December 2016 Samira Motazedi finally got her residence permit in Sweden.

During her time in Sweden, she has regularly published criticism of the Iranian regime in her blog at the cultural journal Glänta (glanta.org/motazedi), but also in newspapers such as Aftonbladet and Feminist Perspective.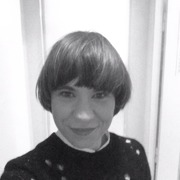 Anna Bloch works as a curator with focus on speculative design. She also consults across critical systems thinking, strategic foresight, and alternative futures.

Anna Bloch is project manager of New Patrons within ICIA. She is also responsible for building networks, collaborations and production platforms, as well as deepening the theoretical and practical issues of Speculative design in Sweden and internationally.

Anna Bloch was the main curator for the exhibition After Labour that took place at Kalmar art museum in 2016. The exhibition investigated the relations and structures between labour, human value and extreme capitalism and what controls these connections.

She is a regular tutor at HDK - Academy of Design and Crafts and lecturer at other design universities in Sweden, as well as a speaker at international conferences.

Anna Bloch has a background as a graphic designer and has also worked on strategic issues in design and marketing. She has a BA in Design at LCP in London and an MA in Business and Design at the School of Design and Crafts (HDK) and The School of Business, Economics and Law in Gothenburg.