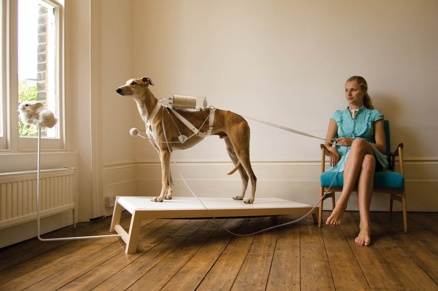 During 2013-2014 ICIA was focusing on two themes of research: The Conditions of Critical Art in our Times and Design, Ideology and Ethics.

Within the scope of Design, Ideology and Ethics, ICIA design curator Anna Bloch, will conduct two seperate developing projects.

The project Critical Design: a platform for partnership and collaborations, with financial support from the Swedish state funder for culture Kulturbryggan, is intended to initiate a network across Europe that unites some of the foremost critical designers in Europe. ICIA wishes to create a dialogue with designers in practice as well as with prominent scholars, regarding the challenges that critical design faces today. The project aims at connecting an important network that will lead on to a larger collaborative plattform for co-productions, exhibitions and residency programmes in Europe. Within the frame of the study, ICIA will further develop contacts with institutions and potential collaborative partners in Sweden, in order to investigate the possibility of deepening their work within the field of critical design. ICIA will also examine if these institutions and possible collaborative partners could function as Swedish platforms for both productions and exhibitions, and as such be included in a larger European collaborative network.
The platform aims at facilitate new partnerships, encourage new projects within critical design and simplify funding for such projects.

ICIA has also been granted funding from Innovativ Kultur to perform the study Critical design - an exploratory study and mapping of designers, businesses and research for further collaboration and developments in Stockholm. The project aims at investigating how collaborations between economy, research and critical designers can be developed and also look into the possibilities, challenges and possible pitfalls of such collaborations. It will map the designers active in critical design and what other instances exist in the region of Stockholm that have the knowledge and interests of future collaborations.
The Conditions of Critical Art in our Times
Anna van der Vliet, founding director of ICIA and member of the editorial board of the art publication Paletten, will research issues regarding The Conditions of Critical Art in our Times. Part of this research will be published in a series of articles during 2013-2014 in Paletten, of which the first two can be read in issue number #291-292 and issue #293. In 2014, ICIA will publish all of the articles as well as other results in a larger publication in Swedish and English.
Design, Ideology and Ethics
Design, Ideology and Ethics will examine which role design can take in a critical social debate, a role that does not necessarily originate from the conditions of the market. The research is lead by Anna Bloch and unites theory and practice. The result will be presented in 2015, and will be included in the exhibition Shared Issues / Different Contexts.