UPCOMING LECTURES AND PROGRAMS
Cesy Leonard from the center for political beauty (berlin)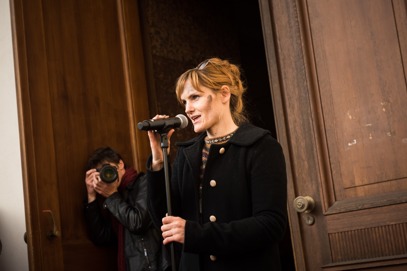 Where: Skogen, Masthuggsterassen 3, Gothenburg
When: Thursday, August 18, 6 - 8 pm

ICIA welcomes to an evening about art and activism with Cesy Leonard from The Center for Political Beauty (Berlin).

THE CENTER FOR POLITICAL BEAUTY is an artist collective based in Berlin that espouses an ideal of "aggressive humanism," in which, according to the Center, art will "hurt, provoke, and rise in revolt." The Center for Political Beauty is an assault team that establishes moral beauty, political poetry and human greatness while aiming to preserve humanitarianism.

Cesy Leonard is an artist and filmmaker and part of the creative core of the Center for Political Beauty. She will present specific works by the Center such as the Federal Emergency Programme, in which the Center proposed to the German government a policy to take in Syrian refugees, modelled on the Kindertransport; and the The Dead Are Coming, in which the Center exhumed the bodies of refugees from grave sites in Greece and Italy and then reburied the corpses in Germany.

Read more on: www.politicalbeauty.com

The event is part of ICIAs project Art as a Space for Action, led by Samira Motazedi in collaboration with Skogen.