previous programs and lectures
ALExander koch from the new patrons (Germany)
Where: Skogen, Masthuggsterassen 3, Gothenburg
When: Wednesday, May 18, 6-7:30 pm

Alexander Koch is invited by ICIA to make a public presentation of the model NEW PATRONS at Skogen May 18, 2016.

Alexander Koch is a curator, gallery owner, writer, and cultural mediator. In 2008 he co-founded KOW, a Berlin based gallery specialized on socially oriented art, representing international artists such as Hito Steyerl, Renzo Martens, Tobias Zielony. Since 2008 Koch is also co-initiator and chairman of the NEW PATRONS program in Germany.

This international network for cultural mediation and self-organization offers citizens the possibility to commission art projects as a response to their social concerns. Since 2013 Koch started New Patrons initiatives in South Africa, Cameroon, Nigeria, Tunesia, and India.
NESHAST - ON ART AS A SPACE FOR ACTION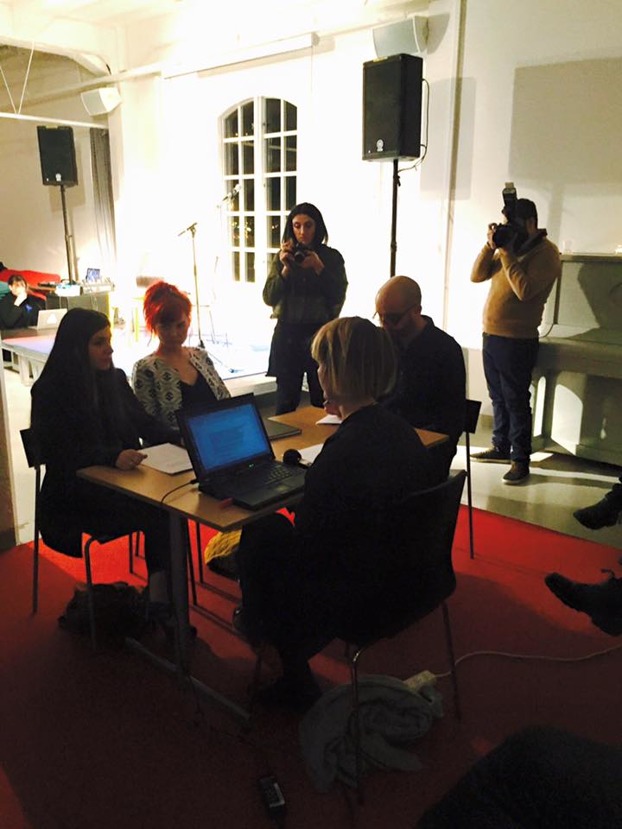 Where: Litteraturhuset (Heurlins Plats 1, 413 01 Gothenburg)
When: December 12, 2015, 2 pm - late

Neshast (1) Art as a space for Action - on art in times of migration.

(1) Neshast is Farsi and means time spent together, for instance by a table over a cup of coffee, where a friendly conversation seeks to understand the answer to a question or a solution to an issue. At this Neshast, organised by ICIA, the question is on migration and the possibility to work artistically.

Who has the possibility to make art? What aesthetics are hegemonic and what expressions are not valuable? What is an artistic practice and where does it take place?

Project manager Samira Motazedi and Frida Sandström kindly invite you to a Neshast to discuss these issues.


---> PROGRAM:

14.00 – 14.10: Introduction by Anna van der Vliet and Samira Motazedi
14.10 – 14.20: Meira Ahemulic, Foreign Land (video, 2014)
14.20 – 14.40: Ioana Cojocariu & Loisa Zurawski: presentation of the project "Making a Living" – an ongoing self-etnographical investigation of a city.
14.40 – 14.50: Eleftheria Gerofoka, artist presentation. Gerofoka directed the performance "Himmel över Göteborg". Goodarzi participated as an actress (Angereds teater, 2015)
14.50 – 15.10: Panel: Ioana Cojocariu, Louise Zurawski, Elefteria Gerofoka, Samira Motazede & Frida Sandström

15.10 – 15.20: Break

15.20 – 15.40: Panel: Soudabeh Zahraei (artist, curator) & Masoud Vatankhan (activist) on artistic migration
Panel: Soudabeh Zahraei (artist, curator) & Masoud Vatankhan (activist) on artistic migration
15.40 – 15.50: Parvaneh Hajilou & Maja Kekonius: "Normal life" (video, 2014)
15.50 – 16.35: Paula Urbano, "Flyktingen av den sorgliga skepnaden" (video, 2015)

16.35 – 16.45 Break

16.45 – 17.20: Panel: Paula Urbano, Maja Kekonius, Frida Sandström & Samira Motazedi about artistic collaborations investigating migration as a subject and a condition.
17.20 – 17.30: Reme Zakzouk reads poetry.
17.30 – 17.40: Hanna Alvage, solicitor and poet, reads poetry.
17.40 – 17.50: Break
17.50 – 18.10: Frilagets creative workshop, video presentation
18.10 – 18.20: Follow up videos, with Viana Mikkelsen, documentary film maker and educator, with the participation of students.
18.20 – 18.40: Viana Mikkelsen, Fadi Khatab, Frida Sandström & Samira Motazedi in conversation about esthetic regimes and the possibility to practice art.

18.40 – 18.50: Break

18.50 – 19.20: "Neshast" – a performance by Samira Motazedi and Frida Sandström, in collaboration with Hanna Alvage and Masoud Vatankhan
19.20 – 20.00: Collective talk and mingle
20.00: Food is served, dj: Amina Hocine. Food artist: Nedaa Ghanem
CREative time summit in gothenburg
Time: Monday 17 November, 6pm
Location: Skogen, Masthuggsterassen 3, Göteborg
Language: English
Free entrance

Please join us for a discussion about socially and politically engaged art in the public space, arranged by Public Art Agency Sweden together with NY-based Creative Time, ICIA- Institute for Contemporary Ideas and Art, and Skogen.

The conversation develops some of the most pertinent questions from Creative Time Summit:
Stockholm 14–15 November: How does art in public space make room for social and political acts and reflections? What conditions and pre-requisites make these processes possible? Concrete examples from the global and local art scenes will be used as starting points for a broader discussion.
6pm Welcome by Johan Forsman, Skogen
Introduction by Lisa Rosendahl, Public Art Agency Sweden

6:15pm Nato Thompson, Creative Time
6:30pm Tania Bruguera, artist
6:45pm Anna van der Vliet, ICIA- Institute for Contemporary Ideas and Art
7pm Haroon Natan, Carl-Oscar Sjögren/The non existent centre
7:15–8pm Break: food and refreshments

Release of the publication: A Temporary Roof: Processes and Dialogues

8–9pm Questions and discussion
Nato Thompson / Creative Time
Since January 2007, Nato Thompson has organized major projects for Creative Time including the annual Creative Time Summit, Living as Form (2011), Paul Ramirez Jonas's Key to the City (2010), Jeremy Deller's It is What it is with New Museum curators Laura Hoptman and Amy Mackie (2009), Democracy in America: The National Campaign (2008), Paul Chan's acclaimed Waiting for Godot in New Orleans (2007) and Mike Nelson's A Psychic Vacuum with curator Peter Eleey. Previously, he worked as Curator at MASS MoCA where he completed numerous large-scale exhibitions including The Interventionists: Art in the Social Sphere (2004) with a catalogue distributed by MIT Press. His writings have appeared in numerous publications including BookForum, Frieze, Art Journal, Art Forum, Parkett, Cabinet and The Journal of Aesthetics and Protest. The College Art Association awarded him for distinguished writing in Art Journal in 2004. He curated the exhibition for Independent Curators International titled Experimental Geography with a book available by Melville House Publishing. His book Seeing Power: Socially Engaged Art in the Age of Cultural Production was published by Melville House in January 2012. Nato Thompson is the co-curator of Creative Time Summit: Stockholm with Magdalena Malm, Director of Public Art Agency Sweden.

Tania Bruguera
Tania Bruguera has never been one to shy away from challenging institutions of power and exposing governmental control. Frequently using performance, installation, and tactics of community. Organizing her long-term projects often expose the social effects of the power of political force. Over the course of the past five years, Bruguera's ongoing project Immigrant Movement International has developed into an art based socio-political movement, engaging and uniting local and international communities around the central issue of immigration reform. Initiated in collaboration with Creative Time and the Queens Museum, the project was two-fold, with the artist living with the conditions of an immigrant worker while also managing a storefront that currently provides necessary services like English classes, career, and legal support to the local community of Corona, Queens. Brugera has recently started the Migrant People Party designed to give migrants political representation with a goal of intervening in the Mexican electoral process.

Anna van der Vliet / Institute for Contemporary Ideas and Art
ICIA - Institute for Contemporary Ideas and Art is an organisation that unifies the analysis of ideas, art politics and artistic production. ICIA was founded in response to the need for an institute that works strategically with development issues within the art field. Clients include municipalities, regions, art organisations and institutions, as well as businesses that in various ways require professional consultancy regarding structural development areas within contemporary art. ICIA initiates, runs and executes its own art projects, often in collaborations with other organisations or art institutions. ICIA has no permanent exhibition space of its own, but instead initiating projects with contemporary art that sometime takes place outside of the traditional institutions, and sometime in collaborations with existing institutions and exhibitions spaces. ICIA is politically unaffiliated, but politics is a strong driving force, especially the politics of art. Anna van der Vliet is the founder and artistic director of ICIA. She has previously worked as a curator and acting director of MAP (Mobile Art Production), project manager at Göteborg International Biennial for Contemporary Art and chief editor of Paletten art journal. In 2014, ICIA curated the project Counterparts in various locations around Gothenburg.

Haroon Natan is an artist and human rights activist who works with issues concerning undocumented immigrants and the hidden society of undocumented individuals in Sweden. Haroon has participated in the film Den svenska demokratins historia, which has been shown at The Royal Dramatic Theatre, as well as the work A Gift from Haroon, which was shown at The Gothenburg City Museum. He lectures about human rights as part of Rädda Barnen STHLM.

Carl-Oscar Sjögren / The non existent Center is a new arena for contemporary art and based in one of Swedens poorest municipalities. A 28 meter high mining tower in Ställberg village forms the basis for residencies, festivals and exhibitions. The artistic activities of The non existent Center are formulated from a global and interdisciplinary perspective. Key questions include: What are the potentials of an extended view of art as a social and political course of events?
State of the Arts Part II: the Role of the Artist as Activist in the Age of Neoliberalism
All artists, activists, curators and poets participating in the art project Another Swedish Image in Gothenburg August 22 - September 15, are invited to a three and a half day workshop and seminar in April 10-13, 2014. The workshop State of the Arts Part II: the Role of the Artist as Activist in the Age of Neoliberalism starts with an open lecture by the founders of CAA – Center for Artistic Activism, Stephen Duncombe, sociologist, and Steve Lambert, artist. The lecture takes place on Thursday, April 10 at 6 pm at Skogen, Masthuggsterassen 3.

The workshop ends with open lectures and presentations by artists Joanna Rajkowska and Johannes Samuelsson on Sunday, April 13, at 12-2 pm at Skogen, Masthuggsterassen 3.

Both events are open to everyone interested in the relation between artist practice and social activism.

The workshop State of the Arts Part II: The Role of the Artist as Acitivist in the Age of Neoliberalism is made possible through a grant from the Swedish Arts Council, and by support from the Polish Institute and a generous collaboration with Hotel Mornington Stravanganza.

The lecture and workshop is made in collaboration with the artistic platform Skogen.
open lectures by artists Joanna Rajkowska and Johannes Samuelsson in Gothenburg
WHEN: Sunday April, 13, at 12-2 pm
WHERE: Skogen, Masthuggsterassen 3

Artists Joanna Rajkowska and Johannes Samuelsson are individually invited to participate in the exhibition Counterparts August 22- September 15. As a finale of the closed workshop State of the Arts Part II: The Role of the Artist as Activist in the Age of Neoliberalism between April 10-13, ICIA opens for everyone to join us for artist presentations by Joanna Rajkowska and Johannes Samuelsson on Sunday April 13, at 12-2 pm.
Joanna Rajkowskas unique artistic vision and methodology combines subjective narratives and critical discourses with a deeply felt concern for the spaces in which her work appear and the people they touch. Instead of simply invading or occupying public spaces, she blurs the identities and hidden tensions associated with them.

The book Where the Beast is Buried (Zero books, London) was released in 2013 and can be ordered here. Rajkowska will talk about her artistic practice in general and about her relation with the city of Gothenburg.
The artist Johannes Samuelsson works with photography, text and video and is often working in the boarder between artistic practice and investigative journalism. He has worked with the project Ostindiefararen in Gothenburg and its formation and conflicts surrounding it. Another of Samuelsson's project is Korvkriget (The War of Sausages), which took place in Umeå and amongst other things included a manifestation for the hot dog seller Helmer Holm.

During 2013, Samuelsson has been very engaged in the city development of Umeå and its changes and transformation for the Cultural Capital year 2014, most especially in the centrally located and important place called Apberget.

Johannes Samuelsson and the poet and Glänta editor Linn Hansén are invited to participate in the project Counterparts, where the starting point is their common interest in citizen dialogues as a part of a democratic processes and its shaping and formation in the public sphere, in particular in relation to the upcoming celebration of Gothenburg being 400 years in the year of 2021.
open lecture the power of imagination by Center for Artistic Activism in Gothenburg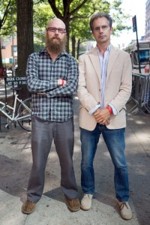 WHEN: Thursday April 10, at 6 pm

WHERE: Skogen, Masthuggsterassen 3

ICIA has invited the founders of Center for Artistic Activism in New York, Stephen Duncombe (sociologist) and Steve Lambert (artist), to hold an open lecture in Gothenburg April 10, at 6 pm.

The Center for Artistic Activism is a place to explore, analyze, and strengthen connections between social activism and artistic practice. Creative activism is more than just an innovative tactic, it is an entire approach: a perspective, a practice, a philosophy. The goal is to make more creative activists and more effective artists.

In relation to the upcoming exhibition Counterparts, August 22 – September 15, ICIA has invited CAA to Gothenburg to make a three-day preparation workshop with the participating artists, poets, activists and curators in the project.

Everyone with an interest in the relation between artistic practice and social acitivism is welcome to this open lecture about Center for Artistic Activism, which follows by an artist presentation by Steve Lambert.
LECTURE ON ART AND raCism And release of paletten art journal#295 and exhibition with Universal minimum wage commission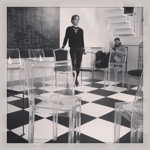 WHEN: Saturday April 12, 4:30 - 8:30 pm
WHERE: Masthuggsteatern, Masthuggsterassen 3, Gothenburg.

Sinziana Ravini, curator, art critic and co-editor of Paletten Art Journal lectures on the subejct Art and Racism. In August, Ravini will publish a new book on the subject by Glänta publishing. Ravini, also invited to co-curate some of the projects in the exhibition Counterparts by ICIA in August, will participate in the workshop State of The Arts Part II: The Role of the Artist as Acitivist in the Age of Neoliberalism.

The lecture follows by a release and an introduction of the latest Paletten issue # 295 by Sinziana Ravini and co-editor Fredrik Svensk. In connection with the release, Paletten and ICIA screen the piece Universal Minimum Wage Commission by the Turkish artist Elmas Deniz. The work is also exhibited at Svilova.org and Paletten website and is a part of the Paletten Internationel project during 2014.

ICIA and Paletten throws a party with food and drinks! Welcome!