ALExander koch from the new patrons (Germany)
Where: Skogen, Masthuggsterassen 3, Gothenburg
When: May 18, 6-7:30 pm

Alexander Koch is invited by ICIA to make a public presentation on the model NEW PATRONS at Skogen May 18, 2016.

Alexander Koch is a curator, galerist, writer, and cultural mediator. In 2008 he co-founded KOW, a Berlin based gallery specialized on socially oriented art, representing international artists such as Hito Steyerl, Renzo Martens, Tobias Zielony. Since 2008 Koch is also co-initiator and chairman of the NEW PATRONS program in Germany.

This international network for cultural mediation and self-organization offers citizens the possibility to commission art projects as a response to their social concerns. Since 2013 Koch started New Patrons initiatives in South Africa, Cameroon, Nigeria, Tunesia, and India.

NEW PATRONS
CIVIL SOCIETY COMMISSIONS CONTEMPORARY ART
"New Patrons" is a program fostering cultural self-organization among ordinary citizens in order to strengthen civic cooperation and a new actor in the European and global promotion of culture.

Commissioning the production of a work of art has hitherto been the privilege of wealthy individuals, corporate patrons, or specialized institutions—the old patrons. By contrast, the New Patrons provide a structure that enables potentially anyone—whether he or she is regarded as a pillar of society or lives on its margins—to commission a work of art and take responsibility for its realization.

Regardless of their personal economic circumstances and prior experience with contemporary art, individuals and groups receive support as they articulate concerns, needs, and contentious issues that they believe do not get their fair share of attention in the public perception and debate. In Germany, this support is coordinated by Neue Auftraggeber e.V., which was set up as a registered nonprofit in Berlin in 2007 to ensure the program's political and institutional independence. It is modeled on the French "Nouveaux Commanditaires," launched in 1992 by the Belgian artist François Hers and the Fondation de France with the mission of bringing art out of the museums and into the center of the life of society.

OVER 400 PROJECTS IN DIVERSE MEDIA IN 10 COUNTRIES
In the past twenty-two years, the New Patrons have realized over four hundred projects in ten European countries: works of visual art and architecture, films, music and literature, Internet projects and stage productions. In France in particular, where the Nouveaux Commanditaires have implemented around three hundred projects since 1992, their activities have become an indispensable part the social and cultural life especially of economically weak regions and put a distinctive new form of artistic production on the map.

A NEW ERA OF SELF-DETERMINATION IN CULTURAL POLICY
The renowned sociologist and philosopher Bruno Latour has argued that the New Patrons mark the beginning of a new chapter in art and social history. It is a model without precedent in the history of cultural politics: people from all walks of life do what private and public patrons did and take the making of contemporary culture into their own hands. In many cases, pressing social, political, and cultural concerns not addressed by other institutions of society prompt the commissioning of an art project because their symbolic dimensions suggest that art can be a fruitful way to engage with them. The New Patrons thus expand the repertoire of cultural policy instruments by establishing a progressive alternative that takes the human right to participation in cultural life at its word. They engage civil society in a cooperative effort to create new cultural assets with strong roots in local society.
MEDIATORS. A NEW STRATEGY IN CULTURAL PRODUCTION
A new strategy requires new actors: the New Patrons' agents in the field are cultural mediators. They are experienced art educators and cultural producers. Compared to conventional curators, they play a part that is at once more modest and associated with greater responsibility: they mediate between the different stakeholders in a project. They approach active citizens or are contacted by them and pave the way for the development of a project. Once a proposed project's objectives on the level of content have been defined, they recommend a suitable recognized artist. Their portfolio encompasses the selection of the artist as well as the assessment whether a proposed project is feasible.

Still, it is ultimately the citizens who make the decisions—they are the patrons. When they are satisfied by a proposal, a project draft is generated in an ongoing dialogue between artists, citizens, and mediators. Implementation begins once the patrons give the go-ahead. Many of the parameters that, in conventional funding models, must be defined before work on a project begins—location and time period, artist and medium, the substantive considerations that justify an investment in art and the required budget—are fixed only at this stage, when projected expenses can be calculated with precision. The mediators guide the citizens and artists through the process until the work is completed, moderate the conversation between the involved parties, help raise the needed funds and clear political and administrative hurdles, broker a compromise when conflicts arise, and assist with communicating the project to the public.

Cesy Leonard from the center for political beauty (berlin)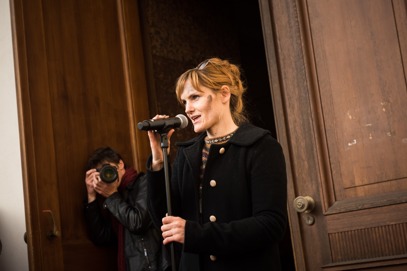 ICIA welcomes to an evening about art and activism with Cesy Leonard from The Center for Political Beauty (Berlin).

DATE TO BE CONFIRMED.

THE CENTER FOR POLITICAL BEAUTY is an artist collective based in Berlin that espouses an ideal of "aggressive humanism," in which, according to the Center, art will "hurt, provoke, and rise in revolt." The Center for Political Beauty is an assault team that establishes moral beauty, political poetry and human greatness while aiming to preserve humanitarianism.

Cesy Leonard is an artist and filmmaker and part of the creative core of the Center for Political Beauty. She will present specific works by the Center such as the Federal Emergency Programme, in which the Center proposed to the German government a policy to take in Syrian refugees, modelled on the Kindertransport; and the The Dead Are Coming, in which the Center exhumed the bodies of refugees from grave sites in Greece and Italy and then reburied the corpses in Germany.

Read more on: www.politicalbeauty.com

The event is part of ICIAs project Art as a Space for Action, led by Samira Motazedi in collaboration with Skogen.