du gamla, du fria (fragments from the national anthem of Sweden)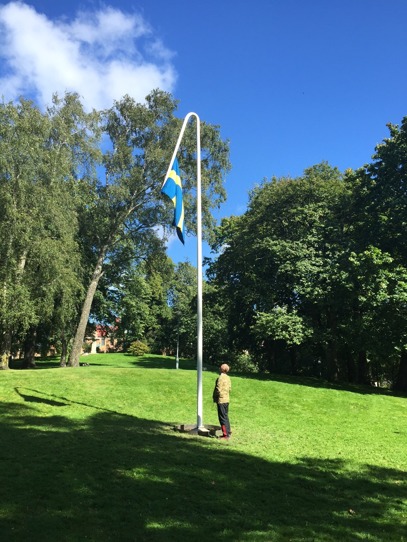 The new commission Du gamla, du fria (Fragments from the National Anthem of Sweden) by artist Mattias Norström, opens the exhibition series Aesthetic of Law produced by ICIA – Institute for Contemporary Ideas & Art, 2016-2017.

The exhibition takes place between August 24 - September 30.

Du gamla, du fria (Fragments from the National Anthem of Sweden) raises questions on national identity. The flag, being the strongest symbol for national boundaries – for what is being inside, and consequently on the outside – is drooping. It is sagged, despondent and melancholic.

Again, our time is characterized by a raising right-wing populism, patriotism and fascism. Is the idea of the national state really the best way of organizing our society now and in the future? How can the national boundaries be understood in relation to the global capitalism and its excavation of national politics? Who is inside, and consequently outside? As a Swedish born white man, Norström questions his own responsibility and identity in our society.
In Mattias Norström's art nature, craftsmanship and popular culture often collide. He uses explicit symbols that are being brutally or humbly twisted. It is in the firm and concrete treatment that the poetic turn takes place and load the symbols with unexpected content.

During the past years, Norström has deepened his investigation of the relationship between violence and romanticism. He has worked in various media such as sculpture, performance and installations. He is born and raised in the Swedish county Dalarna, where he still lives and works part of the year, both as the founding director of the Gagnef Missionen Kunsthalle and as the initiator of the music- and art's festival Skankaloss Gagnef.


The exhibition is realised with support from Göteborgs stad kultur and Västra Götalandsregionen kultur.