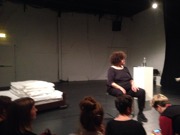 Stills from Cecilia Germains performance How to carry white men no 3/Brown woman carrying white men/Big Mamas Last Lullaby during Counterparts 2014.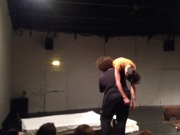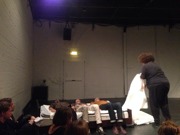 ICIA – Institute for Contemporary Idea and Art produces art projects in collaboration with artists based on a curatorial idea on situation, context and production. Central to ICIA is the notion of an interdisciplinarity connecting performative practices with art in the public space, and to explore various particiaptory methods.

During 2014, ICIA produced the large project Counterparts in 14 different sites around Gothenburg. 42 artists, activists, authors and poets participated in Counterparts.

Aesthetic of Law investiges the moderity and its organisation of people through laws, norms and aestethics. Some central points of departure are the migration and its relation to the idea of the national state; the rise of psychiatry and the bio-political times in which we live. The rise of modernity: the enlightment and colonialism by the end of 16th century and its view on humanity, sorting of classes and rases and its simultanoues proclamation on human rights are examined in relation to contemporary society. ICIA have invited artists to examine our possible spaces of action from an artistic practice. The idea was born during the Counterpart exhibition in an intimate performance with the artist Valentina Desideri, which resultated in a physical mapping on the thematic of Aesthetic of Law and the urgent question: what can I do with the space I have?

Aesthetic of Law will result in various artistic productions and exhibitions during 2016-2017.